Reporter:
minocqua
Trail Conditions:
Good
Snow Cover:
8-12
Date of Report
: March 14, 2023
Area Report:
Trails are in really good shape with a nice base, we had 10 inches fall the other day and groomers have been out. Supposed to be in the 40s the next couple days and rain for Thursday, Friday it is supposed to change back to snow, get your last days of March riding in while you can.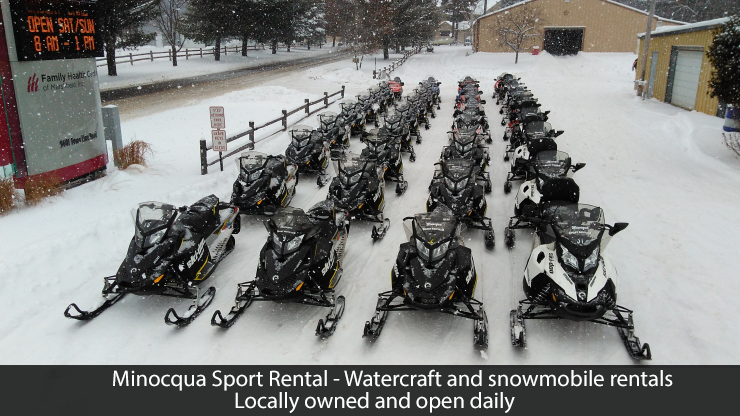 Snowmobiling Information
You can find detailed trail maps here. You can get all the information about regulations and registration form here.
Safety should be your first priority to know all the safety measures by clicking here.
---
The Magic of Winter – Sled the Vast, White Northland
Northern Wisconsin is a dreamland for anyone who is a fan of snowmobiling. If you want to elevate your snowmobiling experience, then the essentially endless network of well-groomed and well-maintained snowmobiling trails that Northern Wisconsin has to offer is something that you would not want to miss. The beauty of snowmobiling in Norther Wisconsin is that you are being catered to by local businesses and organizations that take pride in providing the best possible experience to their guests. They actively work on maintaining the trials and making sure that nothing causes any kind of concern to the guests.
The Minocqua area in Wisconsin is a shining example of this hard work that is done by snowmobile clubs of the area and volunteers from all walks of life. It provides you with a vast network of trails that when combined together form more than 1700 miles of some of the best snowmobiling trails that you will find anywhere in the country. These trials, apart from being the safest and the most groomed also are a majestic sight to behold. When you are riding your snowmobile on them, you will be blown away by the natural beauty that you will come across. It is almost as if you are not even on this planet anymore. The marvels of nature that you will come across during your rides on these trails must be seen to be fully appreciated. There are more than 1300 glacial lakes that you will come across on these trails. If you have ever ridden your snowmobile over a frozen lake, then you would know that it is an experience unlike any other. That is not all when you are done admiring the beauty of the frozen glacial lakes; you will be greeted by more than 233,000 acres of forests.
I don't know about you, but this has me excited about a trip to Minocqua, Wisconsin during the winter season. Riding your snowmobile on well-groomed trails surrounded by all this stunning natural beauty sounds like an experience like no other. You can essentially veer off in any direction from the trails, and you will find yourself in well-marked and spacious routes that will take you towards the frozen lakes or the forest. And when you finally get tired of admiring the natural beauty that you are surrounded by don't worry there are plenty of pit stops on the side of the trials that you can stop at for a breather. Go inside, leave your sledge in the parking area without any worry and mingle with locals and other snowmobilers. We do have to mention that we don't drink and drive, though.