Reporter:
Ely Chamber of Commerce/Explore MN Visitor Center
Trail Conditions:
Good
Snow Cover:
15-17 inches
Date of Report
: January 20, 2022
Area Report:
TRAIL CONDITIONS:  The trail is groomed and in good condition,  Watch for occasional exposed rocks on the hills.  The small segment of trail between Ban Lake Rd and Crane Lake Rd (CR23) got its first groom through the swamp early this week and will be groomed again before the weekend.   Snow:  8-23 Inches  Snowmobiling: Condition- Good; Trail – Groomed; Base –1-8" 
Bearhead Lake State Park  
The Cross Country track was set in the campground and on the Beach Trail to the Trail Center on Friday, January 14.  Two feet of snow is needed to groom Norberg Lake Loop.
TRAIL CONDITIONS:
Snowmobiling: Condition – Good; Trails – Groomed; Yes Base 2-4"
Lake Vermilion – Soudan Underground Mine State Park
TRAIL CONDITIONS:  Snowmobiling: Condition – Poor to fair; Trails – Will be Groomed by the weekend; Base – 1-6" Watch for occasional rocks and brush hanging on the trail..
Putnam/Fishing Lakes – Bear Island State Forest
TRAIL CONDITIONS:  Snowmobiling: Condition – Fair to Good; Trails –Fishing Lakes trail is groomed.  Putnam Lake Trail to be groomed next week.  Base 1-6"  Fishing Lakes trail is groomed and in fair condition. Watch for rocks on both of these trails, mainly on the hills.  
Taconite State Trail
.TRAIL CONDITIONS: The entire trail from Ely to Hwy 73/Side Lake is in good condition and will be groomed twice before this coming weekend.  A few hills west of Hwy 53 still have exposed rocks.  Snowmobiling: 7 to 21″ of snow.  Condition – Good; Trails –Groomed; Base 1-7" 
News and Reports:
Ely Fun Run Event – Saturday, February 5, 2022 – For event details call 218-365-3141 or email elyecho@aol.com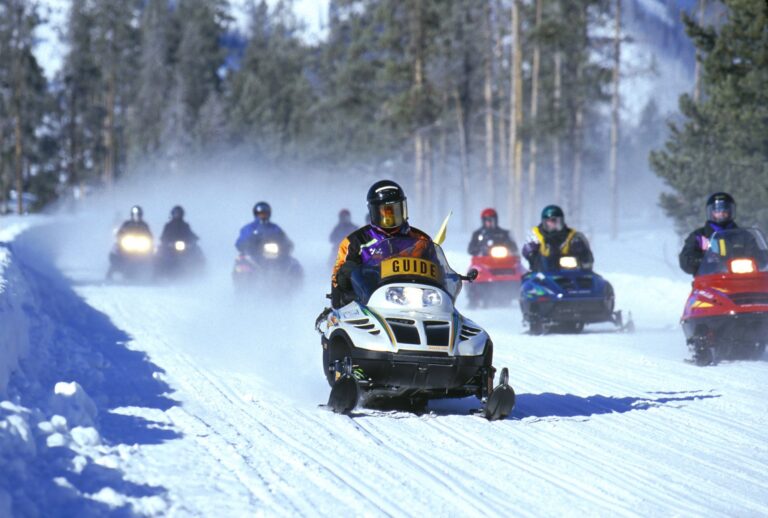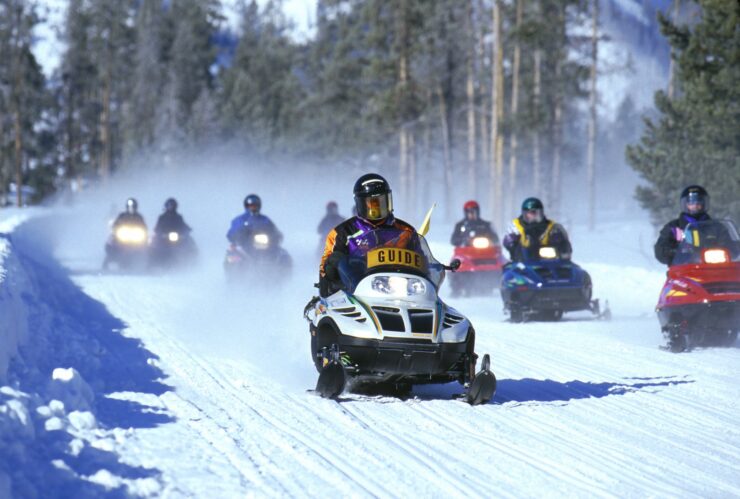 Snowmobiling Information
T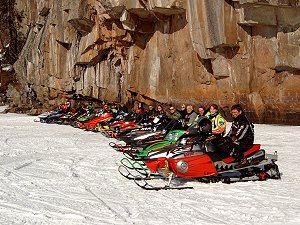 he Ely area is northern Minnesota's premier snowmobile hub with numerous on-trail facilities, accommodations for both large and small groups, and with plenty of food, entertainment and service centers. The Taconite Trail is the main thoroughfare in and out of Ely in the winter. Stretching 170 miles between Ely and Grand Rapids to the southwest, many spur routes will take you just about anywhere you want to go. The Tomahawk Trail, heading to the east, has 86 miles of varied terrain which the avid snowmobiler can use to connect up with hundreds of miles more of groomed trails.
If good snowmobiling gets you excited about winter, then try out the 170 mile long Taconite Trail and the 80 mile Tomahawk Trail. The Taconite Trail, or the "Mighty Taconite" as the locals call it, runs from Ely to Grand Rapids. It stretches across three state forests and the Superior National Forest. Smooth rides along this famous route are loaded with history and the Taconite's many spurs and loops make for some quality modern day pioneering.
The Tomahawk Trail runs from Ely to the North Shore and Yukon Trails. The trail works closely with natural terrain and is one of the most scenic trails in the state. The tree cover that surrounds the trail edges, the lack of traffic and development allows you to have an uninhabited experience.
Many riders return to the Ely area each winter to enjoy its sheer beauty and varied terrain. It's a region where people clearly love snowmobiling and they know how to make you feel welcome. Find out for yourself!